Lauren Eliopoulos
Attorney at Law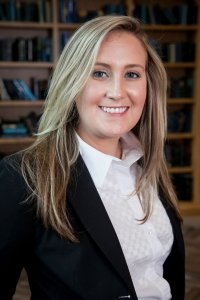 Lauren M. Eliopoulos focuses her practice on construction law and commercial litigation. She represents developers, general contractors, and subcontractors in various construction matters related to single-family homes, multi-family communities, mixed use projects, and high-rise condominiums throughout Florida. In her career, Ms. Eliopoulos has handled many cases in the glass and glazing field, including matters dealing with installation and product claims, claims of corrosion, water intrusion, and coatings related to sliding glass doors, windows, and railings. Ms. Eliopoulos implements effective strategies to resolve claims early and favorably by using targeted discovery and case-ending motions.
With a focus on catering to client needs, dedication to responsiveness, and a "can-do" attitude, Ms. Eliopoulos brings incredible passion to her cases. Her attention to detail during initial case analysis and strategy development has led to multiple early-stage resolutions in matters at mediation prior to the filing of litigation. From this experience, Ms. Eliopoulos participated in continuing education presentations for insurance adjusters and contractors on the Florida Statute 558 Construction Defect Notice of Claim procedures and best practices.
Ms. Eliopoulos has a family background in the food service and hospitality industry. She is an avid cook and enjoys culinary pursuits inspired by her travels.
Ms. Eliopoulos earned her juris doctor from Stetson University College of Law in May 2016 with a concentration in Environmental Law.
Presentations & Publications
PROFESSIONAL AFFILIATIONS
American Bar Association
The Florida Bar
The Florida Land Use and Environmental Division
American Bar Association Young Lawyers Division
St. Petersburg Bar Association, Young Lawyers Division
Florida Association for Women Lawyers, Pinellas Chapter
Environmental and Land Use Subdivision of the Florida Bar
PRACTICE AREAS
Civil Litigation
Commercial Litigation
Construction Litigation
Property Damage Litigation
Premises Liability
EDUCATION
J.D., Stetson University College of Law, 2016, Certificate of Concentration in Environmental Law, Moot Court Board, Journal of International Wildlife Law and Policy.
B.A., summa cum laude, Phi Beta Kappa, Stetson University, 2011
BAR ADMISSIONS
DISTINCTIONS
Board Certified in Construction Law, The Florida Bar, 2022
Representative Experience
Read more
In this construction defect case, Jason Moyer and Lauren Eliopoulos represent an HVAC subcontractor. Critical to their early success in this matter was the granting of a motion absolving their client of liability on a large issue throughout the community.
Representative Experience
Read more
In this slip-and-fall premises liability case, Hugh Higgins and Lauren Eliopoulos earned a swift victory on behalf of this local seafood company. In a matter of months, Hugh and Lauren obtained summary judgement on the legal theory that the Plaintiff was a trespasser.
Representative Experience
Read more
Hugh Higgins and Lauren Eliopoulos defend the stucco subcontractor in this construction defect case where the primary allegations revolve around alleged de-bonding of stucco from the walls and balconies of this 27 story beachfront condominium featuring over 200 units.