Hannah Tyson
Partner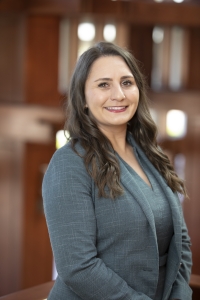 Hannah M. Tyson primarily practices in construction law, while also practicing in the areas of commercial litigation and property damage litigation. Her practice is dedicated primarily to the representation of developers, general contractors, and subcontractors in construction defect litigation. Due to the complex nature of construction defect litigation involving dozens of parties such as homeowners' associations, condominium associations, developers, architects, engineers, general contractors, and subcontractors, Ms. Tyson is experienced in managing large construction project file discovery, extensive fact and expert witness depositions, motions for summary judgment, and motions challenging expert testimony.
Ms. Tyson has represented numerous high-rise condominium developers in multimillion dollar cases. While representing developers, Ms. Tyson has gained experienced in coordinating case strategy with the client and in-house counsel, as well as the client's private counsel. In addition to developers, Ms. Tyson also represents various subcontractors throughout the state of Florida including stucco and waterproofing subcontractors on high-rise condominiums and residential communities including townhomes and single-family homes. Ms. Tyson also has experience litigating cases involving owner controlled or contractor controlled wrap insurance policies (OCIP and CCIP), commercial general liability policies, and excess policies, and the effects such policies have on resolving litigation.
As a ninth generation Floridian, Ms. Tyson has seen firsthand the continuing growth and development in the state of Florida. While growing up, Ms. Tyson also had the opportunity to learn about the construction industry from the inside out while working as an office assistant at her grandparents' custom home building company in Melbourne, Florida. While Florida will always be home, she also loves to travel both stateside and internationally. Ms. Tyson is also an avid runner, whether she's training for her next destination half marathon race, or running all over St. Petersburg with her rescue pup, Bruce.
Presentations & Publications
PRESENTATIONS
Successfully Solving the Puzzle of Construction Defect Claims (Continuing Education Course for Claims Professionals)
Opportunity to Cure and Right Repair: Florida's 558 Pre-Suit Procedure
Hulkamania in the Courtroom! How the Funding of Litigation Impacts Trial Strategy and Case Outcomes
PROFESSIONAL AFFILIATIONS
American Bar Association
The Florida Bar
St. Petersburg Bar Association
Ferguson-White Inn of Court, Student Member (2014 to 2015)
PRACTICE AREAS
Civil Litigation
Commercial Litigation
Construction Litigation
Property Damage Litigation
EDUCATION
J.D., cum laude, Stetson University College of Law, 2015, John B. Stetson Merit Scholarship; Book Award (Research and Writing I, Remedies, Disability Law); Journal of International Aging, Law and Policy (Editor); William F. Blews Pro Bono Service Award; Melvyn Trute, P.A. Trust Award; Teaching Assistant for Research and Writing
B.A., magna cum laude, Florida State University, 2012
BAR ADMISSIONS
DISTINCTIONS
Board Certified in Construction Law, The Florida Bar, 2021
COURT ADMISSIONS
Representative Experience
Read more
In this construction defect suit, Jason Moyer and Hannah Tyson represented the development entity of a 60 story high-rise on the water in downtown Miami. Not only did they obtain a settlement for a fraction of the plaintiff's demand, but they even recovered funds on behalf of their client.
Representative Experience
Read more
Jason Moyer and Hannah Tyson successfully represented the development entity in a construction defect lawsuit involving a two tower, 50+ story condominium project comprised of over 600 condominium units.
Representative Experience
Read more
Jason Moyer and Hannah Tyson represent the general contractor in this construction defect lawsuit involving a well-known downtown St. Petersburg mixed use development.