Matthew Greetham
Attorney at Law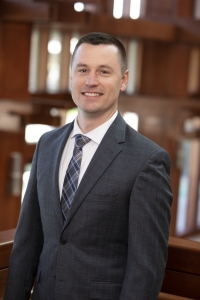 Matt Greetham is Board Certified in Construction Law by The Florida Bar and currently serves as the Vice Chair of the Construction Section of the St. Petersburg Bar Association. He primarily practices in the area of construction law and commercial litigation where he represents developers, general contractors, and subcontractors of residential and commercial construction projects. He routinely handles multimillion-dollar contract disputes, as well as casualty defense matters. Mr. Greetham also presents at seminars in the emerging field of cybersecurity law and policy and is recognized by Florida Super Lawyers as a Rising Star in the State of Florida.
In his construction practice, Mr. Greetham primarily focuses on defending alleged defect claims and litigating contract disputes. Typical cases involve high-rise condominiums, planned unit developments, and commercial property across the state. He has successfully defended clients in matters involving alleged deficiencies at building envelopes, fire suppression systems, and structural components. His clients range in size from multi-state contractors and manufacturers to local, family owned and operated businesses.
In his casualty defense practice, Mr. Greetham defends businesses, contractors, and educational institutions throughout Florida in a wide variety of personal injury claims ranging from environmental causes to premises liability. His experience has taught him the impact litigation can have on a local business and the value of taking a proactive approach to the defense of every matter.
Before attending law school, Mr. Greetham spent time building homes and feeding centers in remote mountain villages across Central America. He continued to build homes while enrolled at Stetson University College of Law where he graduated cum laude and served as an editor for the Stetson Law Review. Mr. Greetham traces his litigation experience back through law school where he clerked at a large litigation firm and interned with a local legal services clinic and the Honorable Judge Thomas B. McCoun, III in the United States District Court for the Middle District of Florida.
Presentations & Publications
PRESENTATIONS
Continuing Education Course for Claims Professionals – "Defense Strategies for Small-Target Defendants: How to Get the Little Guy Out"
St. Petersburg Bar Association – "We Have Been Hacked! : Cybersecurity Risk/Liability for Law Firms and Clients"
Private Engagements/Seminar – "Cybersecurity 101: Cyber Liability and Legal Standards in Florida"
PROFESSIONAL AFFILIATIONS
American Bar Association
Florida Bar Association
PRACTICE AREAS
Civil Litigation
Construction Litigation
Contract Litigation
Premises Liability
EDUCATION
J.D., Stetson University College of Law, 2017, cum laude
M.A., Lee University, 2014
B.A., Lee University, 2010
BAR ADMISSIONS
COURT ADMISSIONS
DISTINCTIONS
Board Certified in Construction Law, The Florida Bar
Representative Experience
Read more
In this construction defect case, Jason Moyer and Lauren Eliopoulos represent an HVAC subcontractor. Critical to their early success in this matter was the granting of a motion absolving their client of liability on a large issue throughout the community.
Representative Experience
Read more
Jason Moyer and Hannah Tyson represent the general contractor in this construction defect lawsuit involving a well-known downtown St. Petersburg mixed use development.