Hugh Higgins
Partner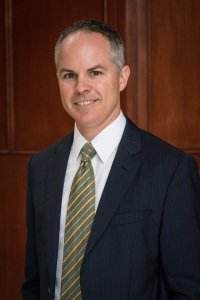 Hugh Higgins is a board-certified specialist in Construction Law recognized by the Florida Bar. He routinely handles construction claims around the State of Florida, which exceed $10 million. In addition to construction practice, Mr. Higgins handles business litigation and casualty defense matters.  
In his construction practice, Mr. Higgins represents large general contractors, developers, subcontractors, architects and engineers.  A typical case involves high-rise condominiums and multi-parcel developments in which the owners claim various construction defects after turnover of the project.  Mr. Higgins has successfully defended issues involving alleged deficiencies regarding structural components (post tension, concrete and masonry work) building envelope (stucco, windows, doors, roof, paint and waterproofing), fire suppression (sprinklers and CPVC), elevated pool decks, mechanical, electrical and plumbing systems, interior finishes, civil site planning and adjacent amenities, among others.  
In his business litigation practice, Mr. Higgins represents large and small businesses in matters that range from contract enforcement to bet-the-farm cases.  He counsels clients on the front end regarding proposed strategies and potential outcomes, so they can make informed decisions about how best to proceed.
In his casualty defense practice, Mr. Higgins defends businesses and individuals from a wide variety of personal injury claims.  In his practice, he represents national retailers, restaurants and places of public accommodation, as well as local and family run businesses. Mr. Higgins understands the potential impact of personal injury litigation on large and small businesses and takes an aggressive and proactive approach to defending his clients.  
In addition to litigation work, Mr. Higgins regularly conducts training and continuing education courses for clients, insurance adjusters, staff counsel and others on topics involving construction law, business litigation and casualty defense. He has found this to be a rewarding experience both because of the potential to teach but also to learn more intimately the needs of his clients and effective means of addressing them.
Outside the office, he is a member of a local church and enjoys spending time with his wife and four children. Together they love exploring the outdoors and competing in triathlons.
Presentations & Publications
Presentations
4 Angles on Limiting Risk on Construction Projects: Injury & Defect Claims (CLM National Conference: Construction)
Malingering: Perpetuating Fraud (CLM National Conference: Retail, Restaurant & Hospitality)
Construction Case Management Strategies
Case Study on Heron's Landing v. D.R. Horton: A Look Inside Plaintiff's Playbook
5 Keys to Successful Defense of General Liability Claims
Efficient & Aggressive Defense of Premises Liability Claims
Opportunity to Cure and Right to Repair: Florida's 558 Pre-suit Procedure and 10 Florida CD Cases to Know
Developments in Florida Case Law Since Tiara Condo Assn. (HCBA, Construction Law Section CLE)
Construction Defect Litigation (Continuing Education Course for Claims Professionals)
Publications
PROFESSIONAL AFFILIATIONS
The Florida Bar
Real Property Probate Law and Trust, Construction Law Section of Florida Bar, Construction Law Committee
Hillsborough County Bar Association, Construction Law Section
St. Petersburg Bar Association
PRACTICE AREAS
Construction Law
Business Litigation
Casualty Defense
EDUCATION
J.D., Cum Laude, Stetson University College of Law, 2007

Book Award, Civil Procedure
E. Harris Drew Scholar in Oral and Written Advocacy

B.A., Cum Laude, University of Florida, 2000
BAR ADMISSIONS
COURT ADMISSIONS
Florida State Courts
U.S. District Court, Middle District of Florida
U.S. District Court, Southern District of Florida
U.S. Circuit Court of Appeal, Eleventh Circuit
DISTINCTIONS
Board Certified in Construction Law, The Florida Bar, 2017
Florida Super Lawyers, Construction Litigation 2019, 2020, 2021, 2022
Super Lawyers, Rising Star 2014, 2015, 2016, 2017, 2018
Community Involvement
Director, New Life Solutions, Board of Directors
Representative Experience
Read more
Attorney Hugh Higgins obtained a dismissal of a major subcontractor in a construction defect lawsuit involving an upscale multi-family apartment project comprised of approximately 200 apartments housed in six (6) four-story buildings near downtown Tampa, Florida.
Representative Experience
Read more
In this slip-and-fall premises liability case, Hugh Higgins and Lauren Eliopoulos earned a swift victory on behalf of this local seafood company. In a matter of months, Hugh and Lauren obtained summary judgment on the legal theory that the Plaintiff was a trespasser. On appeal, the Second District Court of Appeals affirmed summary judgment.
Representative Experience
Read more
Hugh Higgins and Tyler Bennion secured the dismissal of a $2,000,000.00 claim against a glass and glazing client based on Florida's Statute of Repose.  The dismissal came within two months of the lawsuit being served on our client. 
Other Significant Matters
Obtained summary judgment in favor of Restaurant Franchisor against a personal injury Plaintiff.  They also successfully enforced defense and indemnity rights in the Franchise Agreement as to the Franchisee (resulting in $0 out of pocket for the client and carrier).
Secured the dismissal of a personal injury claim against a lumber supplier based on worker's compensation immunity.
Won summary judgment against a personal injury plaintiff in favor of our premises owner client.  The Court allowed the case to proceed only against the tenant of the premises.